Closed | Snowmobiling Tours
Summit Meadows Adventures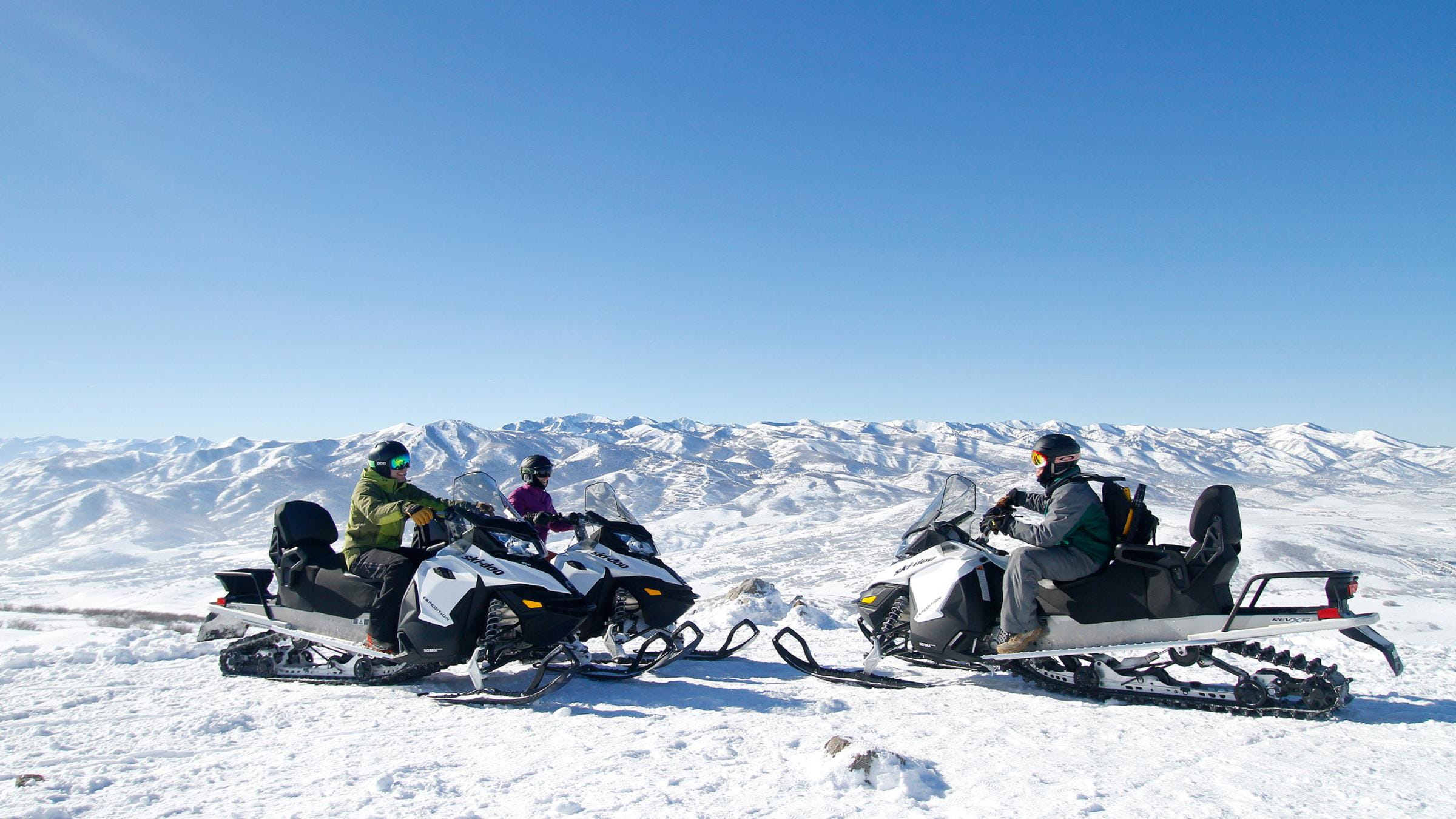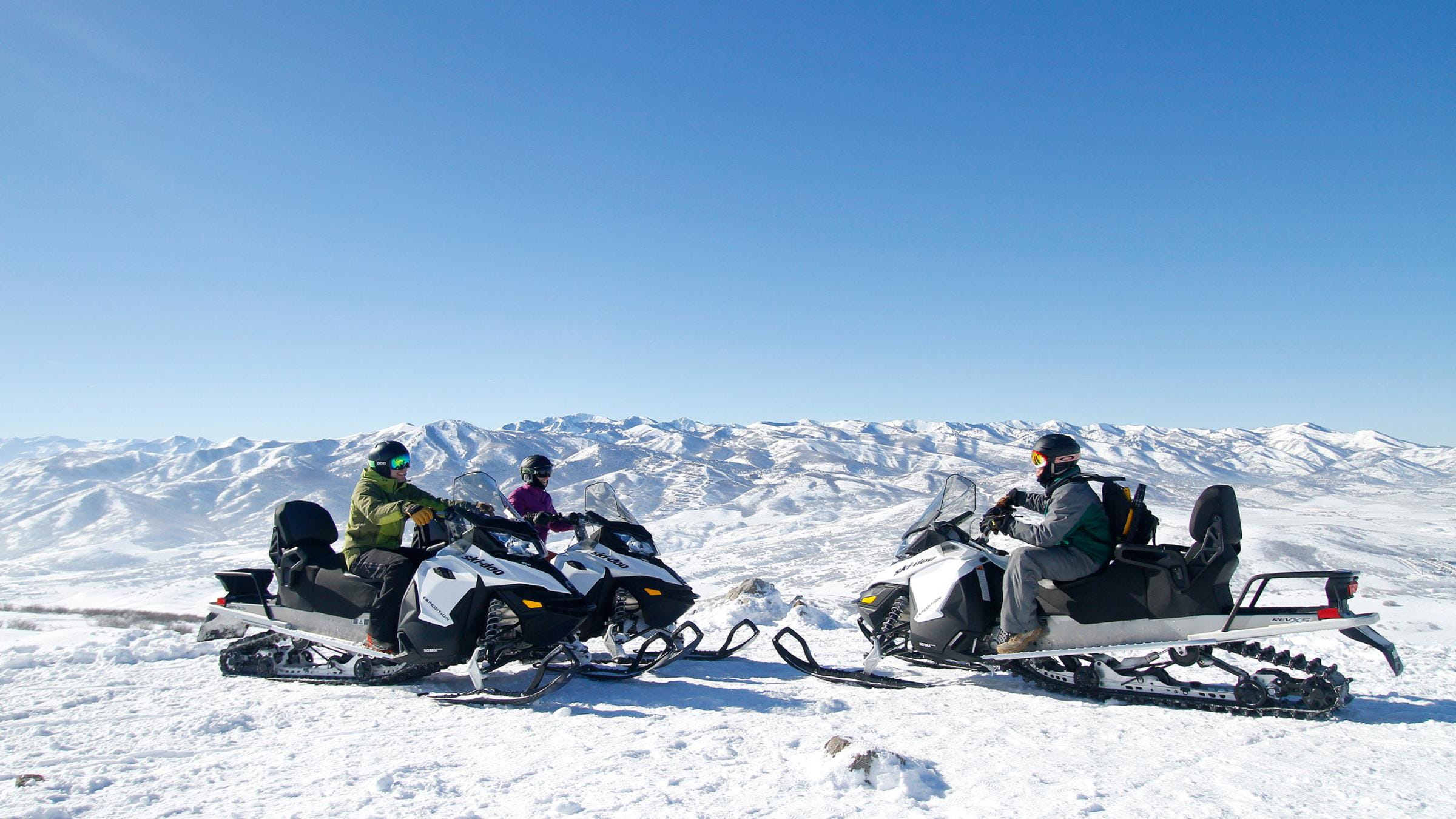 Summit Meadows Adventures Address
13657 Wright Sheep Road, Peoa, Utah 84061
Search Group Tours
Please note, passengers can be added during check-out. If you are searching for a tour inside of 48 hours, please call to book at 435-645-7669.
Pricing & Policies
Frequently Asked Questions
Do I need reservations?
Yes, they can be made online or over the phone. There is a two-day cancellation policy.

How old do you need to be to drive?
Those who are 16 and older can drive the snowmobile and passengers need to be 4 to 5 or older. A child 8 and under will ride for free with a paying adult. If riding double, you can switch off driving if the drivers are 16 or older.

Is it a guided trip?
Yes, guides are certified in First Aid and CPR. They have years of experience, and their goal is to help our guests have a fun and memorable time.

Do you offer shuttle service from Park City?
Yes, we offer round-trip shuttle service to our guests from their Park City accommodations.

Do you have clothing for rent?
Yes, we rent boots, coats, gloves, and snow pants, which are available in many different sizes. Wear what you have, and we can rent whatever else you need. You must bring your own eye protection, such as sunglasses or goggles. If it is snowing, please plan to bring your goggles. We sell goggles and neck warmers that will cover your face as well.

Can I wear ski boots?
No, they are hard to walk in and rip the seats on the snowmobiles. Snowboard boots are acceptable.

If I do not want to go on the tour, is there a place to wait while my friends and family are snowmobiling?
Yes, we have a heated building with Wi-Fi where you can wait.

Are helmets required?
Yes, they are required. If you have a ski helmet you may wear it; we also provide helmets free of charge. The helmets do not have face shields due to health concerns. You will need to bring your own eye and face protection.

What if I need to cancel my trip? What is the cancellation policy?
If you need to cancel or change your guided group tour reservation, you must call Skier Services before 5 p.m. two (2) days prior to each booked date to receive a full refund. There are no refunds for day-prior or day-of cancellations or no-shows. For bookings made the day prior to the tour that cancel that same day, a partial refund will be offered. For day-of bookings that cancel that same day, no refund is offered.

When do I need to arrive at the ranch?
Please arrive 30 to 45 minutes prior to your tour's starting time so you can check in, be dressed and prepared to depart on time.

How far is Summit Meadows Adventures from Park City?
Summit Meadows Adventures is about 10 minutes from Park City's Historic Main Street, 12 minutes from Snow Park Lodge or Park City Mountain, 20 minutes from upper Deer Valley, and 20 minutes from Canyons Village at Park City Mountain.
Product Pricing
23/24 Season Rates
| Ride Options | Winter Rate Per Person | Winter Passenger Rate | Holiday Rate Per Person | Holiday Passenger Rate | Departure Times - Daily |
| --- | --- | --- | --- | --- | --- |
| *Two-Hour Tour | $239 | $60 | $259 | $69 | 9 a.m., 11 a.m., 1 p.m., 3 p.m. |
| Private | $465** | - | $465** | - | 9 a.m., 11 a.m., 1 p.m., 3 p.m. |
*Two-hour tour time includes several minutes of preparation time
**Two person and two snowmobile minimum
Summit Meadows Adventures Policies
Holiday rates in effect Dec. 26, 2023 - Jan. 1, 2024; Jan. 12 - 15, 2024; Feb. 16 - 24, 2024
Children 8 years and under ride free with a paying adult — must be at least 16 years of age to drive
Maximum two people per snowmobile
Damage insurance is available for purchase
Please bring your own eye protection — goggles recommended and/or sunglasses in clear weather. Please note: due to health safety, goggles are only available for purchase and cannot be rented
Boots, snow pants, coats and gloves are available to rent
Helmets are mandatory and are included in the rental price (ski helmets are acceptable as well)
Cancellation Policy: If you need to cancel or change your guided group tour reservation, you must call Skier Services before 5 p.m. two (2) days prior to each booked date to receive a full refund. There are no refunds for day-prior or day-of cancellations or no-shows. For bookings made the day prior to the tour that cancel that same day, a partial refund will be offered. For day-of bookings that cancel that same day, no refund is offered
Guides have CPR/First Aid training
Credit cards accepted; VISA, Mastercard, American Express, Diners Club and Deer Valley Gift Card
Complimentary transportation from Park City