[No Associated Data Item]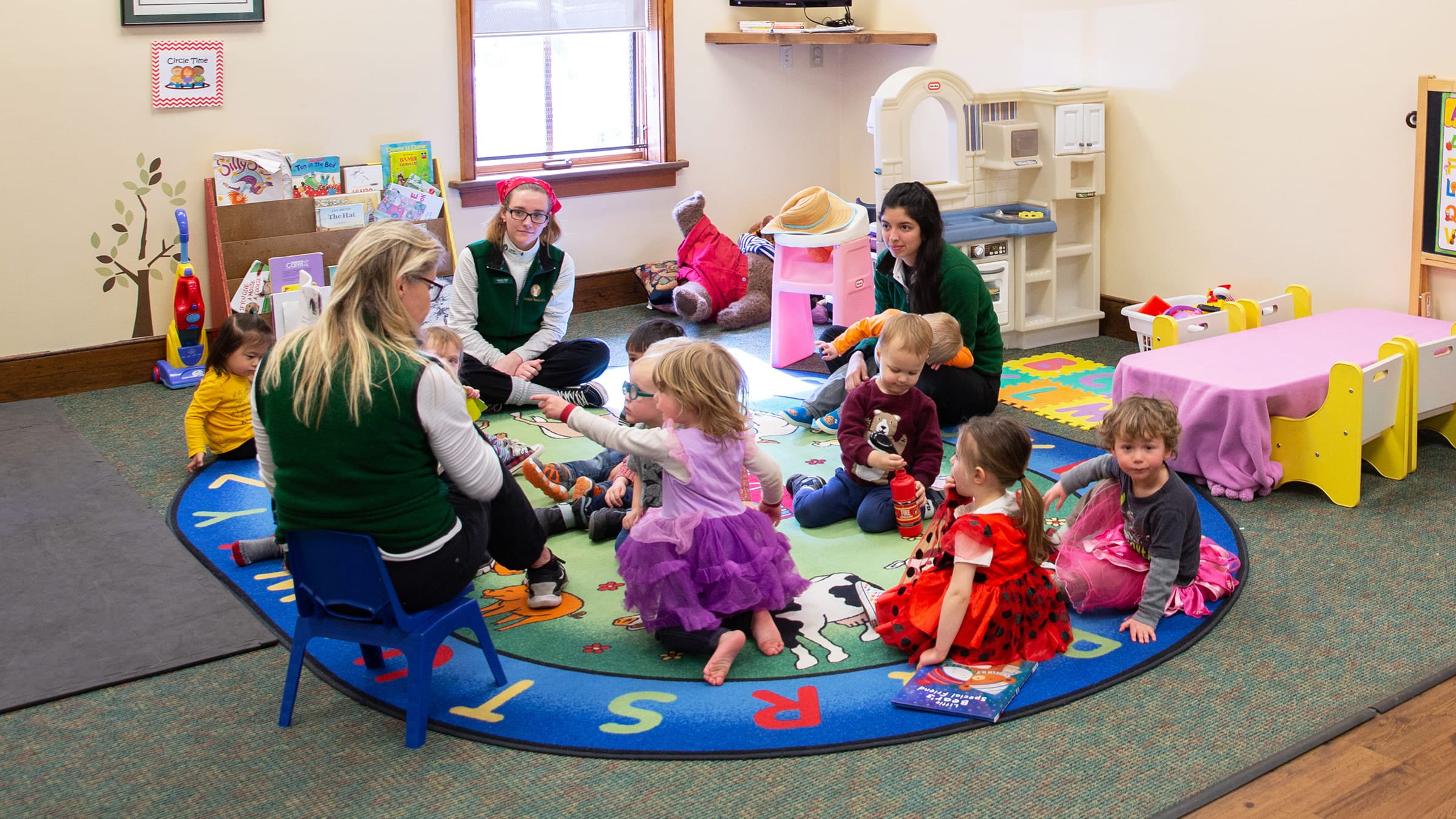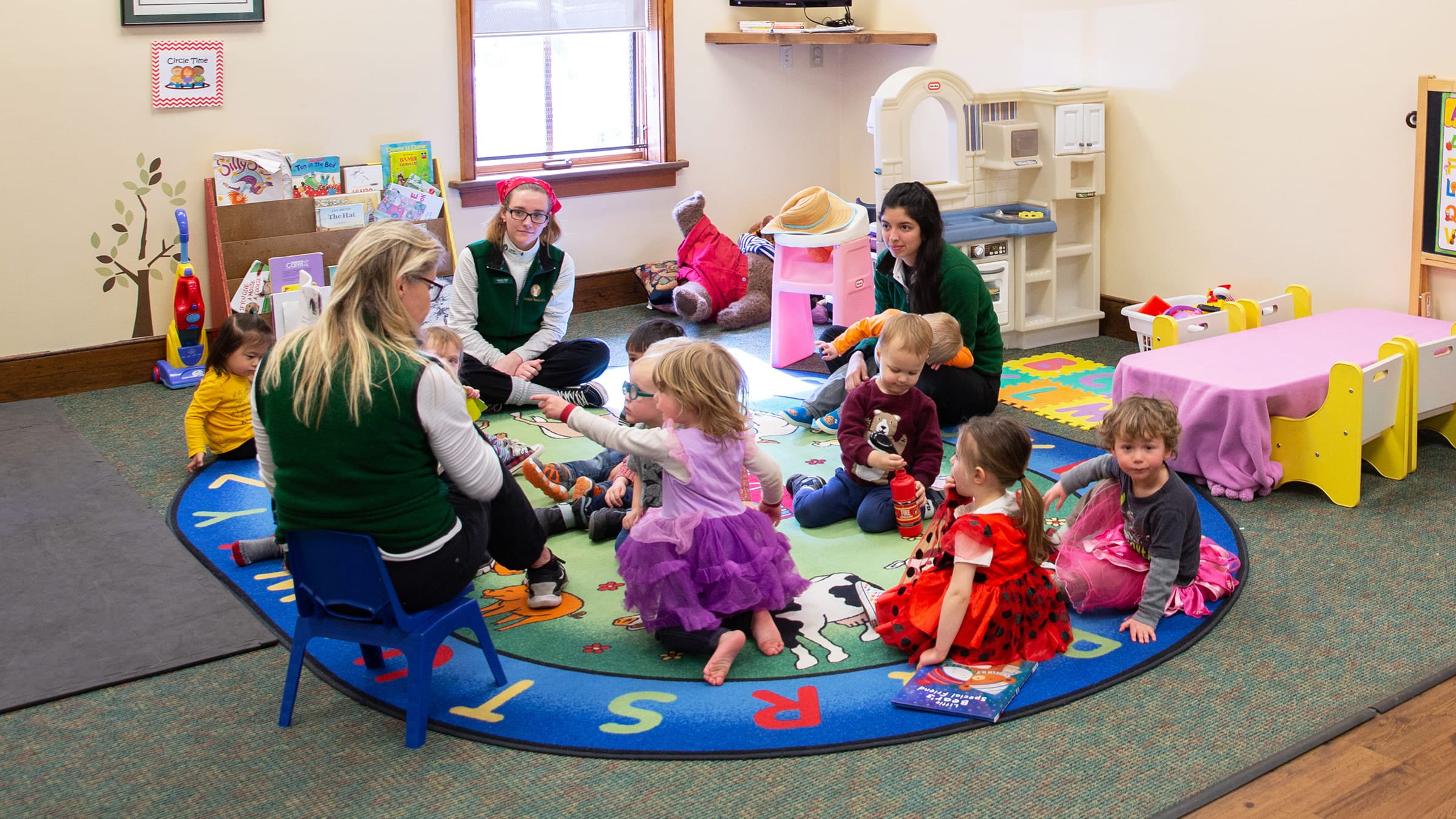 Child Care Program
For Ages 2 Months - 2 Years
Ten essentials are incorporated in the child care program for Infants (2-11 months), Little Tots (12-18 months), Big Tots (19-23 months), and Little Kids (2 years old) include: Social Interaction, Self-esteem, Manners/Respect, Safety, Healthy Environments, Quality Care, Communication, Play, Music, Reading

The Academy provides separate rooms for dividing and managing children of like age groups more effectively, with dedicated caregivers and teachers who specialize in the individual needs of each developmental age group. Central to the Academy's child care is interacting with the children in a responsive, meaningful way, thus enabling learning through trusting relationships.

For each distinct age grouping, activities include developing gross motor skills, fine motor skills, language and speech, social concepts, art/music/science/number concepts and safety concepts/skills.

Preschool Curriculum
For Ages 3 - 5 Years
The Academy believes in the critical importance of children enjoying and benefiting from early childhood education, with its potential adventures and discoveries. The breadth and depth of children's learning is greatly magnified when children are given rich and varied experiences in their formative years. Using the nationally recognized, professionally developed Mother Goose Time curriculum, the school plans for and provides enjoyable and challenging learning experiences, so that all children can grow and develop as competent and confident learners.

Deer Valley Academy's inviting environment encourages and helps children to explore and take advantage of opportunities for fun, choice, freedom, adventure and challenge. Our curriculum fosters all areas of child development, using effective teaching strategies that are developmentally appropriate. Being ideally situated at Deer Valley Resort provides unparalleled opportunities for enriching and beneficial daily outdoor activities, such as winter snow play, skiing for pre-school aged children, mountain hikes, crystal hunting and walks to the duck pond.
Family in the Educational Process
Deer Valley Academy and Mother Goose Time believe it is extremely important to provide information and resources that support family involvement in a child's learning experience. We provide a collection of tools that guide parents in taking an active role in their child's education and development. This creates a link from classroom to home learning. Because children come from diverse backgrounds and bring unique perspectives to the learning center, activities are intentionally designed to invite children to bring their experiences from home to the classroom.

We help you stay connected to your child's learning by sending home many projects created by your child, including art, mini-books, games and little journals. Through these interactive projects, children learn letters, numbers, shapes and fun facts about the monthly focus theme. Each month you will also receive a family newsletter highlighting the theme of the month. You will get tips for talking to your child about the topics they are learning. Also included are song lyrics, fingerplays and other fun activities you can share with your child at home.