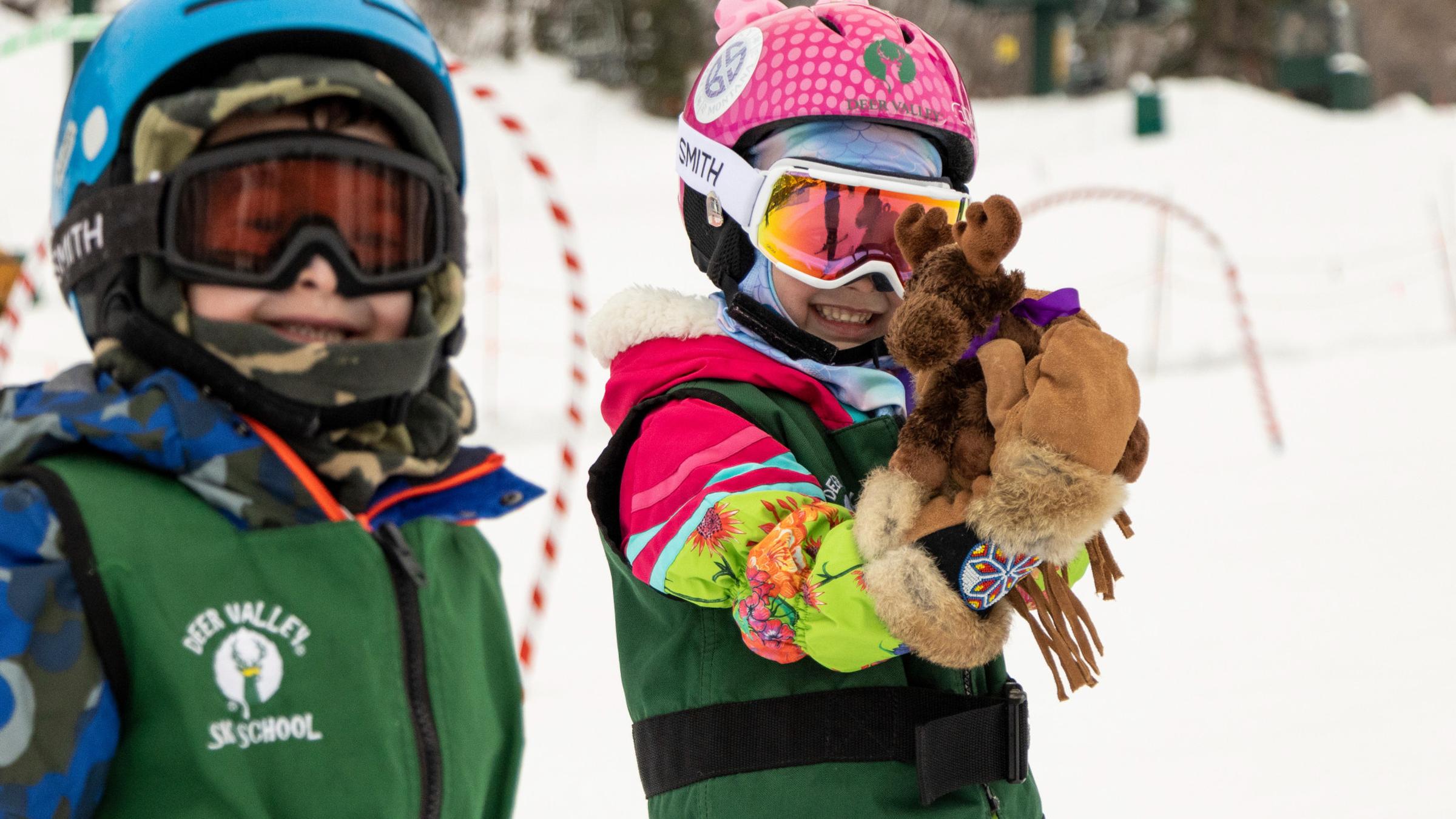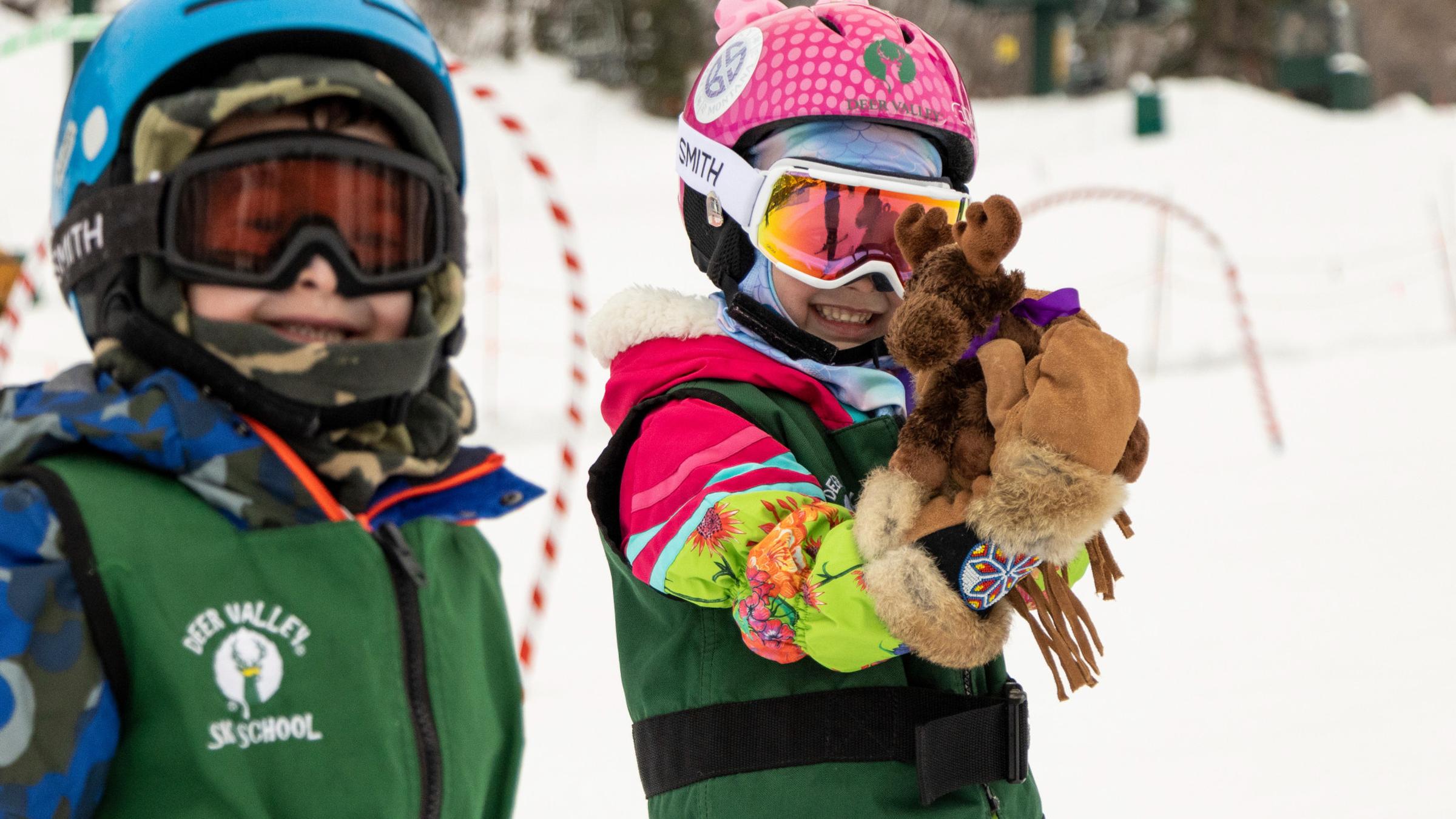 Quick Facts: Ability Level: All | Age: 4 years | Time: 9 a.m. - 4 p.m. | Ski Time: 9 a.m. - 11:30 p.m. or 12:45 - 3:30 p.m. | Student:Teacher Ratio: 2:1 | Meeting Place: Snow Park Lodge, Bambi Room

Bambi Club is an all-day Ski School program that features both indoor and outdoor fun and learning during the day. Children will also enjoy a morning or afternoon ski lesson and will be grouped based on ability level. Indoor activities include movement and musical activities, story time, art projects and lunch. Ski and boot rentals are offered at a discounted rate of $26 per day. Please note that minimum and accurate age requirements are strictly observed, and sunscreen and protective eyewear are required. Advance reservations are required.

Renting equipment from us? Please plan to pick up your gear from the rental shop 30 to 60 minutes prior to the program start time.



22/23 Season Dates: December 3, 2022 - April 16, 2023, conditions permitting
Chairlift Hours: 9 a.m. - 4:30 p.m.
For specific chairlift hours and status, please click here.

Lesson Rates & Details
Ski lesson rates and details for the 22/23 season will be announced later this summer.
21/22 Bambi Club Rates
| Regular Season | High Season | Lift Ticket Add-On |
| --- | --- | --- |
| $280 | $310 | $40 |
Lift ticket, ski equipment, and helmet rentals are not included in the price of the lesson.
High Season Dates: 12/19/21 - 1/5/22, 2/18 - 2/26/22, 3/13 - 4/3/22

Important Forms: Please Complete Prior To Lesson
Reservation & Cancellation Policies
Policies and Information

Lift tickets are required for every skier or lesson participant. Lift tickets are not included with any lessons or rentals. Check your program details for more information
Rental equipment is not included with any lesson
All lessons, child care, rentals or other Skier Services products must be reserved in advance to ensure availability at any time during the ski season. Products may reach capacity at any time
Minimum and accurate age requirements are strictly observed for each child's safety. We reserve the right to move children to the appropriate ability zone and program based on their skill level or if it is determined that the child's date of birth has been incorrectly stated
Children placed in a program because their birth date is incorrectly stated are not guaranteed a place in the program. Parents will be called to pick up their children and cancellation fees will apply
We cannot guarantee placement in group lessons with friends or relatives. To ensure a quality experience, we must form classes based on age and ability zone
We are not able to honor requests for specific instructors in a group lesson
All activities begin promptly at their designated times. Please allow 45 to 60 minutes to collect your rental equipment and arrive at your meeting location. During peak periods, this process may take longer. Refunds will not be issued for late arrivals
All Group and Specialty Lessons meet at Snow Park Lodge
For parents of children ages 3 and younger who are enrolled in Child Care or Ski School programs: Please complete the Child Care Information Form. If you bring this with you on your first day, it will greatly expedite your check-in process.


Payments and Security

A paid reservation and valid credit card on file are required to guarantee any Skier Services product
The full amount for Skier Services products is charged to the credit card provided at the time of booking
To ensure the accuracy of your reservations and for security purposes, we prefer to speak directly with our guests. However, you may authorize another person to book and make changes to your reservations. Compliance with all policies will apply
Each family must have their own file and children must be booked under their parent or guardian's name in order to ensure accuracy, security and privacy for our guests
All transactions at Deer Valley will now be cashless in order to expedite transaction times and enhance the guest experience. Deer Valley has implemented contactless payment options at key point of sale locations, allowing us to operate more efficiently and securely. Guests are encouraged to "tap-and-go" with their credit card or mobile payment device at checkout or use our mobile ordering options for food and beverage purchases. Deer Valley gift cards are accepted at most resort owned and operated outlets. Please check here for the complete list of outlets that are able to accept gift cards.



Cancellations and Changes

If you need to cancel or change a reservation, you must call or speak directly with a Skier Services agent before 5 p.m. two (2) days prior to each booked date in order to receive a full refund. Cancellations or changes made one day prior to the first day will receive a partial refund
The following fees, per product, per person, per day, will be deducted prior to issuing a refund:

Private Lesson $150 - $175
All Group Lessons $100
Ski Rentals $20
Specialty $100
Child Care: $45

There are no refunds for day-of cancellations or no-shows. Please call our Skier Services Contact Center at 888-754-8477 or 435-645-6648. For our current hours of operations, please refer to the Deer Valley website. If you are at the resort, stop by one of our Sales locations. Hours and locations are listed below

Ski School Office: 8:30 a.m. - 4:30 p.m.
Snow Park Rental Shop: 8 a.m. - 6 p.m.
Children's Center: 8:30 a.m. to 4:30 p.m.
Silver Lake Rental Shop: 8 a.m. - 5 p.m.
Skier Services Contact Center: 8 a.m. - 5 p.m.
The St. Regis Deer Valley: 8:15 a.m. - 4:30 p.m.
Stein Eriksen Lodge Deer Valley: 8:30 a.m. - 4:30 p.m.
Montage Deer Valley: 8 a.m. - 4:30 p.m.

Weather and snow conditions are not viable reasons for cancellation. Appropriate fees will apply to lessons cancelled after the deadline

Skier Services products are non-transferable to another family member, friend or a different day
Ski Ability Zones
Please refer to this ski ability zone chart below when selecting a lesson.
Symbol
Ability
Ability Detail


First Timer (FT)
Never skied before or is unable to stop in a wedge on the easiest of green trails.
Learning to stop in a wedge and turn in both directions for speed control.
Beginner (BG)
Can control speed by linking turns and stopping in a wedge on green terrain.
Learning to match skis and skid turns to explore green trails on the mountain.


Advanced Beginner (AB)
Can link turns with mostly parallel skis to control speed.
Can stop when desired on ALL green and easy blue trails.
Learning to comfortably make parallel turns on blue terrain.


Intermediate (IN)
Can consistently make parallel turns to control speed on most blue terrain.
Working on technique in a variety of snow conditions, varying turn size and shape.
Learning to carve on blue terrain.


Advanced (AD)
Can carve parallel skis more than skidding.
Can vary turn size and shape as desired to control speed on ALL blue and double blue terrain.
Exploring black terrain.


Expert (EX)
Can perform dynamic skiing in almost all conditions/terrain with confidence. Exploring extremes.
Ski Ability Zone Video
Meeting Places and Times
Fawn Special (3 years) | Program Time: 9 a.m. - 4:30 p.m.
Morning Lesson Drop-off: 8:30 a.m.; but no later than 9 a.m. in Children's Center Fawn Room
Afternoon Lesson Drop-off: Between 8:30 - 10:30 a.m.; but no later than 11 a.m. in Children's Center Fawn Room
Pick-up: Children's Center Fawn Room by 4:30 p.m.

Bambi Club (4 years) | Program Time: 9 a.m. - 4 p.m.
Morning Lesson Drop-off: 8:30 a.m.; but no later than 9:15 a.m. in Children's Center Bambi Room
Afternoon Lesson Drop-off: Between 8:30 - 10:30 a.m.; but no later than 11 a.m. in Children's Center Bambi Room
Pick-up: Children's Center Bambi Room by 4 p.m.

Reindeer Club (5 - 6 years) | Program Time: 10 a.m. - 3:45 p.m.
Drop-off: 9:45 - 10 a.m. in Children's Center Reindeer Room
Pick-up: On snow in yellow fenced area at bottom of Wide West run at 3:45 p.m.
Early Drop-off (Optional): Begins at 8:30 a.m. in Children's Center Reindeer Room; class leaves room at 10 a.m.


Adventure Club (7 - 12 years) | Program Time: 10 a.m. - 3:45 p.m.
Drop-off for First Timer & Beginner: Bottom of Burns Lift between 9:45 - 10 a.m.
Drop-off for Advanced Beginner - Expert: Top of Burns Lift between 9:45 - 10 a.m.
Pick-up: Bottom of Wide West run at 3:45 p.m.
Early Drop-off (Optional): 8:30 - 9:15 a.m. in Children's Center Northside Room

Teen Escape (13 - 17 years) | Program Time: 10 a.m. - 3:45 p.m.
Drop-off: Wide West run outside Ski School Office at appropriate ability zone sign between 9:45 - 10 a.m.
Pick-up: Bottom of Wide West run at 3:45 p.m.

Please arrive on time, ready to ski, with lesson ticket, lift ticket and equipment.

FAQs
What if it snows when I have lessons reserved?
We do experience unexpected snowstorms, but that only brings you more of the Greatest Snow On Earth®! All lessons for adults and children will take place on time regardless of the weather. Fees will apply to lessons canceled after the deadline.

Can I have my assistant or Travel Agent book my Skier Services reservations?
To ensure that Skier Services products are booked accurately and to provide complete information and security, we prefer to speak directly with our guests. However, if you would like to authorize your assistant to book your reservations and make changes for you, please let us know.

We will be visiting Deer Valley with other families. Can we make everyone's reservation in one file to make it easier?
Actually, that will make things more difficult for you. By having one file for each family with your own information and payments, we are able to keep a more accurate record of your activities. Our agents will be more than happy to set up a file for each individual family, secure with its own payment and liability information. Also, this ensures the privacy of the information in your file.

How do I know which group program to book for my child?
We have that covered! The highly-trained child development experts on our staff have gone to great lengths to put together programs that will instill the love of skiing as well as entertain children 3 - 17 years of age. Our children's lessons are structured to encourage young skiers and meet their needs both developmentally and physically. If you feel your child would do better in another environment, we encourage you to book private lessons. In your children's best interest, we may move them to the appropriate program based on their motor or communication skills or for safety reasons. Minimum age requirements are strictly observed for safety reasons.

What is included in a rental package?
A full rental package includes skis, boots and poles. If you will need a helmet, please ask our agent to reserve one for you at an additional cost. Our equipment is never used for more than a few seasons to ensure a high-quality rental package. In order to provide you with the most enjoyable experience, we recommend advance reservations for all Skier Services products.

What if children's group lessons or child care are not available for my dates?
If we are not able to confirm a group lesson or child care reservation, we have a wait list. We will place your children individually on the wait list for the appropriate program and specific date(s). We must have a complete guest file, including email address and credit card number. If your requested date becomes available, we will reserve the activity, process payment and notify you by email. This may happen any time up to two days prior to your requested date. If you do not receive an email, please check in at any of our seven Skier Services locations the day before or the day of and we will do our best to assist you. If you do receive an email and your plans have changed, you must comply with our cancellation policy in order to receive a full refund for the lessons booked.

Can I take a private lesson with my children?
Because adults and children learn at a different pace and through varying teaching techniques, it is better to not share the lesson time. We suggest that you take separate lessons or split the time.

Is it possible for family members or friends to be in the same group lesson?
We cannot guarantee any placement in group lessons. To ensure a quality lesson, we must form classes based on age and ability zone.

What if I have a lesson at 9 a.m. and my child's group lesson doesn't begin until 10 a.m.?
Our Children's Center offers complimentary early drop-off care between 8:30 and 9:15 a.m. for all children who are booked into group lessons. Ask our Skier Services Reservations Agents for details.

What will my child eat for lunch and snacks in group lessons or child care?
The Children's Center serves a variety of "kid-approved" options that are nutritious and tasty. If your child is unable to eat certain foods, please fill out a 'Special Needs' form so our staff can help monitor his/her food selections. You may also bring a lunch or snack for your child, but please be aware that our facilities are nut-free.

Can my child still meet his/her group class if they are late?
All activities begin promptly at their designated times. Please allow a minimum of 45 minutes to arrange for equipment rentals and arrival at your meeting location on time. Due to the size of the resort and the number of skiers enrolled in activities, we are not able to accommodate late arrivals. Refunds will not be issued.
Authorized Ski Instruction Policy
Deer Valley Resort is located on private property in Park City, UT. Only Deer Valley Resort Ski School staff, or other pre-authorized resort ski school members, are allowed to teach skiing at our resort. Independent ski instruction, guiding or coaching is not allowed on Deer Valley's private property for the safety of our guests. Please note that violation of this policy is considered to be trespassing and theft of services. Individuals who breach this policy will be asked to leave the premises and will be prosecuted to the fullest extent of the law.